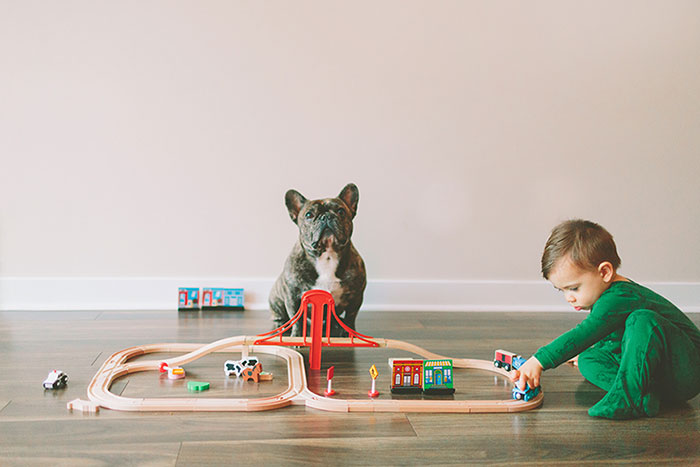 One of the most essential aspects of ABA therapy is the way it can be tailored to meet a child's specific needs. The one-on-one attention and individualized plan your therapist will provide your child is designed to help them reach their goals and learn new life skills. A significant part of differentiating ABA therapy is using forms of play that your child will find meaningful and respond to.
Processing an Autism Spectrum Disorder diagnosis can be a big undertaking, and figuring out what's best for your child in terms of therapy can feel daunting as well.
The Basics of ABA Therapy
Though you may have done your research or have met with an ABA specialist already, we thought we could start with a brief rundown of what ABA therapy entails.
ABA, or Applied Behavioral Analysis, is designed to take an in-depth look at how learning and behavior are connected and to provide you a better understanding of how an environment can affect your child's behavior. ABA is designed based on B.F. Skinner's theory of operant conditioning. Operant conditioning is the idea that appropriate responses can be taught by controlling what consequences stem from specific actions taken by your child.
The building blocks of ABA therapy include:
Antecedent: the events or circumstances that happen immediately
before a behavior
Behavior: the action taken as a result or in conjunction with the
previous precursor
Consequence: the events that immediately follow the target behavior
and are contingent on the behavior
Using a system of rewards that are personally meaningful to your child, ABA therapy facilitates desired behavior through positive reinforcement. It works to change your child's behavior for the long term. ABA therapy also involves generalization, the process of carrying positive response into situations and environments outside of the ABA clinic with individuals other than your child's ABA therapist.
ABA therapy is expansive, covering a wide variety of skills, including:
Social skill building
Self-care skills
Behavior in the home environment
Behavior in other social settings, such as the classroom
ABA and Positive Reinforcement
Both in and out of the ABA clinic, one of the central tenets of ABA therapy is the concept of positive reinforcement. Positive reinforcement works to encourage specific behavior in your child by presenting them with a reinforcing stimulus following their desired action. When the incentive or reward is something meaningful to your child, it is much more likely that your child will present the same positive behavior in the future.
Much like ABA therapy in general, the rewards used as favorable reinforcement will look different for different children. Basic examples of rewards used for positive reinforcement include:
Verbal praise for completing an essential, necessary task, like homework or picking up toys
A small cash allowance for every passing grade received on a report card
A favorite piece of candy for politely introducing oneself to a new acquaintance
ABA and Changing Behavior
ABA therapy is, by far, one of the most popular interventions available to children and people with autism. But as a parent of a child newly diagnosed, you may be concerned about how going to the ABA clinic can help change or modify your child's behavior for the better. It is ok to be skeptical!
The use of a reward system includes various items or privileges your child responds to well. By individualizing rewards, your ABA therapist is creating a behavior system based on the rewards that will eventually result in a new, positive outcome. However, if your child does not present the expected skill or behavior, inside or outside the ABA clinic, the reward will not be given. Over time, your child will learn and adapt to the expected skills and behaviors.
Play Therapy in ABA
The benefits of play as an aspect of ABA therapy cannot be understated. Whether your child is at the ABA clinic with their therapist or with you and your family at home, introducing play into their sessions will have positive effects on their behavior.
What constitutes play therapy? Much like the rest of ABA therapy, play will look different for different children. For some children, play therapy may seem
like a simple goofing off session. For others, play therapy may be more structured and formal.
No matter what it looks like, play therapy is all about interacting with others cooperatively and competitively. Play therapy also includes communicating needs and wants, strategizing, interpreting the intentions of others, and taking turns. It's the perfect way for your child to improve social skills and their ability to practice self-advocacy.
As the parent of a child with Autism Spectrum Disorder, you can feel confident in your ability to practice play therapy with your child, as play therapy does not need to take place solely in an ABA clinic. With the right coaching, you and other notable figures in your child's life can play effectively with your child at home, at school, and in different settings.
Directive and Non-Directive Play Therapy
You can practice two very distinct types of play therapy at home, in the ABA clinic, or at school. They are:
A guided approach to play therapy. During directive play therapy, a therapist or parent engages the child more often and directly throughout the play. They might make suggestions or try to move the session along.
Non-directive play therapy
Non-directive play therapy is the polar opposite of directive play therapy. It involves a more unstructured type of play. During non-directive play therapy, your child is left to guide themself during playtime. There are very few boundaries during this type of play therapy, and your child will be expected to work through problems and roadblocks on their own.
Floor Time in ABA Therapy
You may have come across the term "floor time" as you've researched play therapy and interventions for Autism Spectrum Disorder. This type of play therapy involves the child, parent, and therapist all working and playing together. Floor time consists of both directive and non-directive approaches, allowing your child to experience the perfect blend of independence and structure during the session.
Just as you will differentiate other aspects of your child's ABA therapy, you and your child's therapist will come up with a plan to differentiate your child's play therapy and floor time as well. The session may begin with little to no direction, which will allow your child to determine the initial play activity. As the session progresses, you or your child's therapist can prompt your child to choose a new toy to play with, communicate in some way, or take another action that will make the session feel a bit more directed.
Key Goals of Floor Time During Play Therapy
During floor time, your child's therapist will be on the lookout for your child to fulfill six specific goals. These goals are:
Your child demonstrates an understanding of the mechanics of the game
Your child actively engages with the therapist in the ABA clinic or with you
Two-way communication between you and your child or your child and your child's therapist is displayed
Your child becomes aware of their specific wants and needs within the game
Your child makes a gesture to communicate these wants and needs during the game
Your child can calm themself down should they become upset
For each child, achieving these six goals will look very different, but your therapist will likely structure the floor time session to maximize the likelihood that your child will reach these goals.
First, your child's therapist will allow your child to lead the session. When given autonomy, some children may choose to play with blocks while others may gravitate toward dolls or toy trucks. Your child may opt for a simple board game. The possibilities are endless, but the options for play will be toys or games that your child has expressed interest in playing with in the past.
As the session progresses, introduce toys and activities to make floor time more complex and dynamic. For example, your child's therapist may add a dollhouse to your child, where they may have only been playing with individual dolls before. The introduction of a new, related toy allows your child to display their understanding of how dolls and dollhouses are connected.
During floor time at the ABA clinic, you and your child's therapist should be on the lookout for your child's ability to show an understanding of how to play with the specific toys presented, communicating with you about the game, and asking pertinent questions.
Play Therapy at Home
As crucial as productive play therapy is at the ABA clinic, it is just as essential to practice play therapy and floor time at home. Carrying play therapy over from the ABA clinic to your home is a critical element in generalization, or your child's ability to respond to stimuli and present the same positive behaviors across multiple environments.
So how best to enact a play therapy session at home? As we've mentioned, play therapy will look different for every child. As such, it is vital to recognize the type of play that your child will respond to best. Does your child like arts and crafts? Does your child enjoy music and dancing? Maybe they enjoy board games more than other toys. Once you have an understanding of how best to play with your child, you can introduce play therapy in your home.
Think back on how you have seen your child's therapist carry out a play therapy session with your child in the ABA clinic. Start with a non-directive approach, allowing your child to select the toy or game that you'll use for the start of the session. Reward your child for accurately describing the rules of the game or appropriately using a toy. As the session progresses, introduce new, more complex toy and game options and gauge how your child responds.
Remember to take notes during the session to share with your child's therapist! The intel you provide will help your child's therapist continue to fine-tune your child's ABA therapy.
Recommended Toys for Child with Autism
If you are wondering if there are specific types of toys that you can purchase to aid in your child's ABA therapy, wonder no more! There is a myriad of toys that you can use to support your child's developing fine and gross motor skills, social skills, and communication skills. There are even toys designed to help your child better understand cause and effect.
When introducing play therapy and floor time into your child's daily routine at home, consider adding in a toy that is specifically designed to work on one of the skills noted above. We recommend toys considered to be "fidget" sets. These toy sets include items that offer different textures and features for your child to explore and interact with. Fidget sets can consist of stress balls, koosh balls, and tangle toys.
Children with Autism Spectrum Disorder can also benefit from playing with smart tablets explicitly designed for use in ABA therapy. There are a variety of ABA-specific applications and games you can download for your child to use on the tablet. As your child uses the tablet, you'll see an improvement in your child's behavior in no time. A tablet also functions as a reward during other points in your child's therapy session.
Empowering Every Child
Play therapy is just one aspect of ABA therapy, but it is crucial to giving your child a sense of autonomy and the opportunities to learn and grow while having fun at the same time!
At Blossom Behavioral Wellness Center, we believe that every child and family in the special needs community should feel empowered and supported on their journey of learning and growing. Blossom's team works collaboratively with every family to provide children with Autism Spectrum Disorder with the highest quality ABA therapy possible. Check out our services page for more details on the individualized sessions and intensive programs Blossom offers. You and your child are sure to find a supportive, collaborative environment at Blossom!
/
https://blossombehavioral.org/wp-content/uploads/2020/01/a-toddler-playing-with-his-wooden-trains-while-his-dog-sits-nearby-700.jpg
467
700
Plug Team
https://blossombehavioral.org/wp-content/uploads/2019/12/blossom-behavioral-logo.svg
Plug Team
2020-01-02 14:32:44
2020-08-04 03:22:41
Differentiating Play During ABA Therapy